Neighborly® Announces the Unexpected Passing of its President & CEO, Mike Bidwell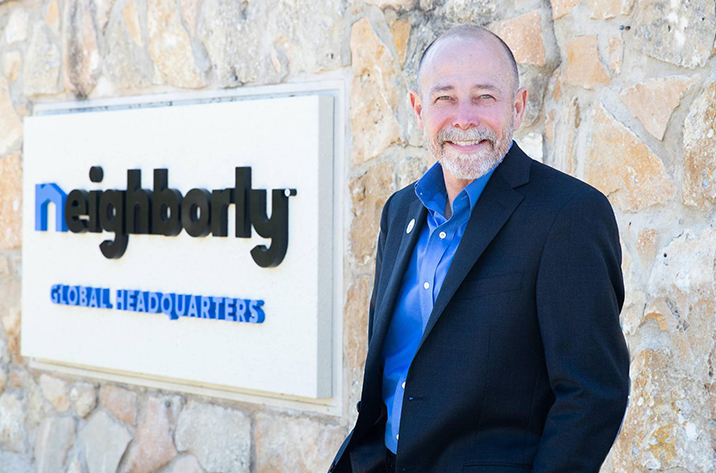 WACO, Texas (September 8, 2023) – Neighborly®, the world's largest home services company, announced today with profound sadness the sudden and unexpected passing of its President and CEO, Mike Bidwell. All of the Neighborly associates and franchise owners around the world mourn his loss and extend heartfelt condolences to the Bidwell family, including his wife, children […]
WACO, Texas (September 8, 2023) – Neighborly®, the world's largest home services company, announced today with profound sadness the sudden and unexpected passing of its President and CEO, Mike Bidwell. All of the Neighborly associates and franchise owners around the world mourn his loss and extend heartfelt condolences to the Bidwell family, including his wife, children and grandchildren.
The company's leadership team said: "We will all miss Mike more than words can express, and we are fortunate to have worked for such an amazing leader who was smart, compassionate, and insightful. He put a strong team together – and in times like this, we stand together to honor him by carrying his vision for Neighborly forward."
Bidwell, 65, has been a part of the Neighborly family for almost 40 years. He began his career in April 1984 when he opened a Rainbow International® Carpet Cleaning & Restoration franchise in Tucson, AZ. In 1987, Bidwell became the first multi-concept franchisee and area developer when he started the first Worldwide Refinishing Systems – now known as DreamMaker Bath and Kitchen. He later added a third franchise brand to his portfolio, Mr. Rooter® Plumbing in 1992. Bidwell was a highly successful multi-unit franchisee, being named Franchisee of the Year for Rainbow International and Top Gun for each franchise brand he owned.
His success as a franchisee led Neighborly to recruit him to the world headquarters in Waco, Texas in 1995. Before being appointed the President and CEO of Neighborly in January 2014, Bidwell's tenure at Neighborly included being its Chief Operating Officer and President for three different franchise brands.
Effective immediately, Jon Shell, our Chief Financial Officer since 2015, is appointed Interim President & CEO of Neighborly; Mary Thompson, our Chief Operating Officer since 2015, will continue to lead Neighborly franchise owner relationships with the support of other Neighborly Corporate Leadership; current board member David Brandon, Executive Chairman and Former CEO of Domino's Pizza, is appointed Executive Chairman of the Board of Directors for Neighborly.
Bidwell embodied the company's Code of Values built on Respect, Integrity, Customer Focus and Having Fun in the Process. Management will continue to operate Neighborly in honor of his lasting presence and legacy by maintaining those Code of Values and striving each day to reach the company's vision, "to be so remarkable we become a beloved household name."
About Neighborly®
Neighborly® is the world's largest home services company with more than 30 brands and 5,000 franchises collectively serving 12 million+ customers in six countries, focused on repairing, maintaining, and enhancing homes and businesses. Through the Neighborly mobile app, Neighborly connects consumers to local service providers that meet rigorous franchisor standards across 18 service categories. More information about Neighborly®, and its franchise concepts, is available at Neighborlybrands.com. To learn about franchising opportunities with Neighborly®, click here.
For more information, contact:
Loren Brown, BizCom Associates
(817) 913-0194 | [email protected]